Typography and Other Inspirations for Feminist Artistic Actions
A long history of agit prop inspires SAWCC's recent "FreedomSafetyNow" protest against gender-based violence.
John Lennon first encountered Yoko Ono through her art, specifically at Indica Gallery in London in 1966, where he climbed a ladder and looked at a framed piece of paper with a magnifying glass. As he recounted in Rolling Stone, "It's a great relief when you get up the ladder and you look through the spyglass and it doesn't say no or fuck you, it says YES." They were introduced later that night, and as Jann S. Wenner puts it in his essay "The Ballad of John and Yoko": "He showed her the wonders, liberties, and leverage of popular superstardom; she showed him—and through his faith and support, the world—the power of YES." Three years later they married, had a "Bed-In" for peace as their honeymoon and launched the "War is Over!" campaign as their first Christmas card as a married couple.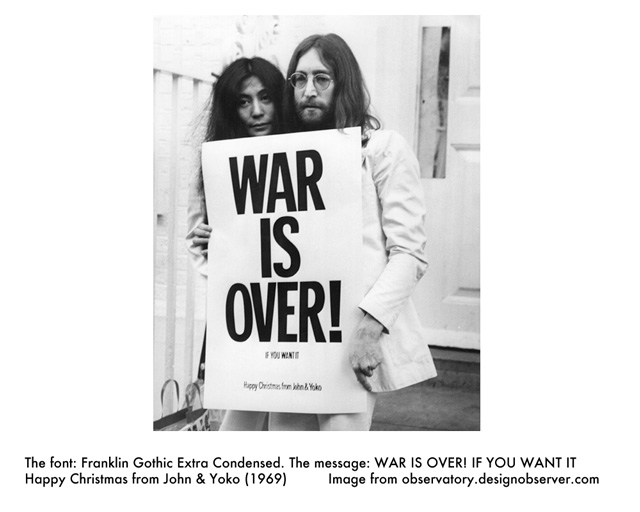 Since I was a young girl, when I looked at images of civil rights and Vietnam War protestors, I felt the aura from a time when art, politics and war were on the forefront of people's everyday lives, when hair length and dress meant something more than fashion. I especially loved that era in the black and white photographs of my parents, my dad's mutton chops and bellbottoms, loving the fashion, but knowing the story that he once got arrested and spent a night in jail—a story he doesn't like to tell, but one his children want to hear.
And of course, I loved the fonts.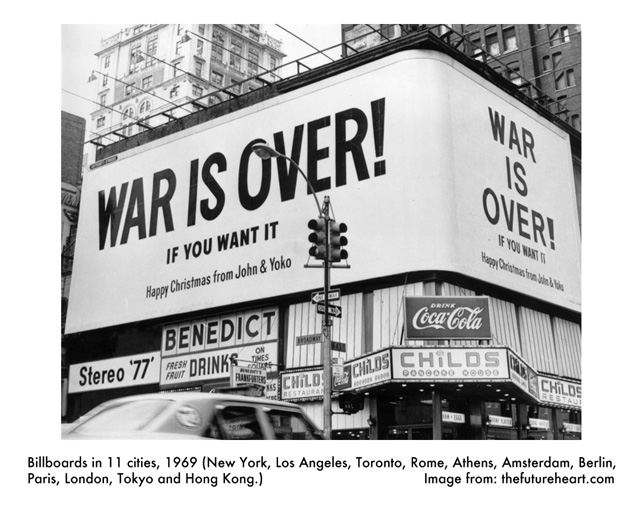 Now, I've been spending a year immersed in fonts, through a residency at the Center for Book Arts. Working with letterpress, I am struck that in today's digital age of expression and activism, formerly widespread mechanical processes such as Super8 film, black and white film developing, and offset printing have an aura of their own tradition, but are also deeply connected to social change. As Walter Benjamin states in his "Work of Art in the Mechanical Reproduction": "One might generalize by saying: the technique of reproduction detaches the reproduced object from the domain of tradition. By making many reproductions it substitutes a plurality of copies for a unique existence. And in permitting the reproduction to meet the beholder or listener in his own particular situation, it reactivates the object reproduced. These two processes lead to a tremendous shattering of tradition which is the obverse of the contemporary crisis and renewal of mankind. Both processes are intimately connected with the contemporary mass movements."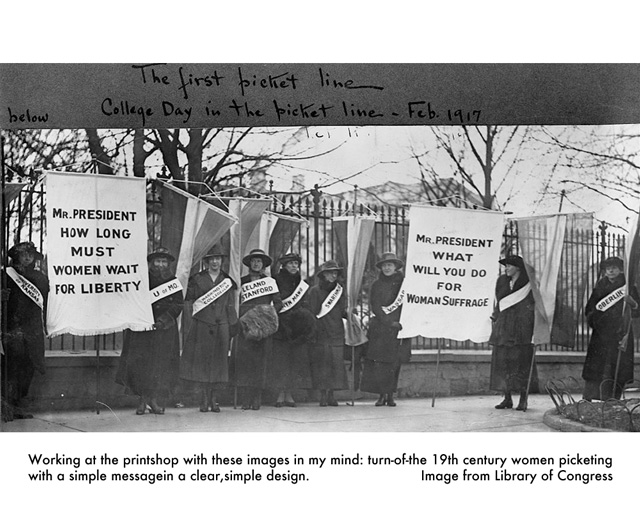 Indeed, political poster design and typeface had become embedded in my cellular memory without even being conscious of it. As an Asian American who came of activist age in NYC in the 1990s, I have strong memories of the fearless and powerful AIDS activism of the 1980s, specifically that produced by ACTUP (AIDS Coalition to Unleash Power), who developed the succinct poster campaign in 1987: "Silence=Death." If you walked around downtown NYC in the late eighties, you saw the iconic pink triangle on a black background which, according to ACTUP, "drew parallels between the Nazi period and the AIDS crisis, declaring that silence about the oppression and annihilation of gay people, then and now, must be broken as a matter of our survival."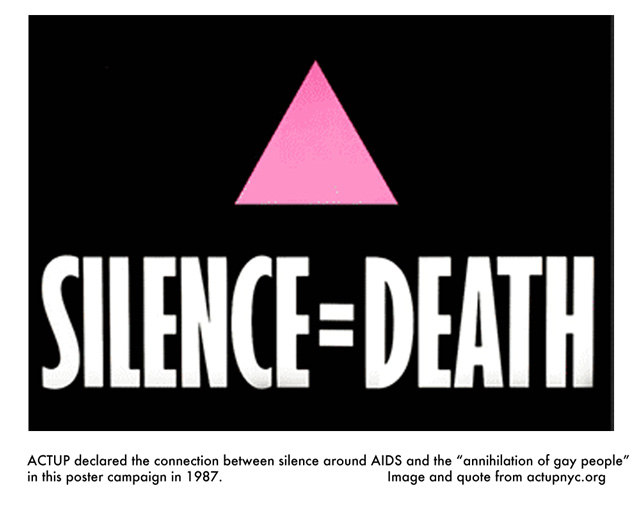 Imagine my surprise when I was on my typical route to work from the northern Bronx to the upper East Side of Manhattan last November, and I saw a billboard protesting fracking. I recognized the design immediately, which revived the style and font that Yoko Ono and John Lennon had originally used in their "War is Over!" campaign: Franklin Gothic Extra Condensed.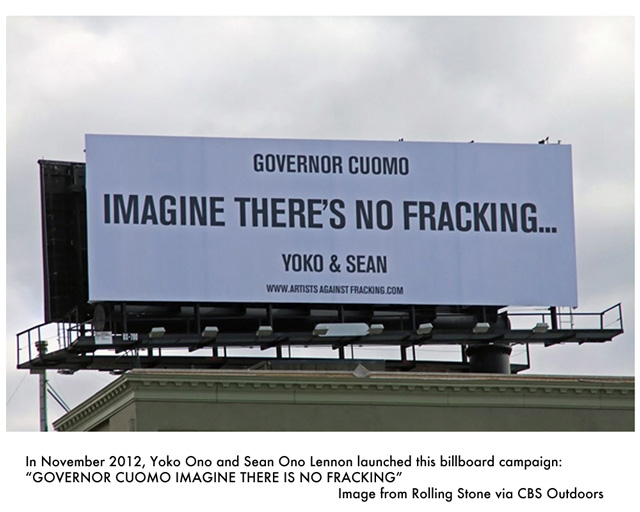 And then, in December 2012, everything shifted. I had never heard the name of my birthplace, Safdarjung, New Delhi mentioned in American news until that December, when Jyoti Singh Pandey, a 23 year old student, was horrifically gang-raped on a bus in Delhi. Hours after the attack, she was brought to Delhi's Safdarjung Hospital, where she underwent five surgeries for over a week, before being sent to a hospital in Singapore, as decided by a cabinet meeting chaired by Prime Minister Manmohan Singh--a decision criticized for being politically-motivated. News coverage, to which I was glued, centered on the protests at India Gate and Pandey's progress at Safdarjung Hospital. Hearing about her unfathomable injuries made me literally sick to my stomach; hearing the names Safdarjung and New Delhi even more so.
Hearing the news of Pandey's ordeal brought flashbacks of my own and my deepest fears as a new mother. Three years ago, the moment that I found out that I was having a daughter, I felt a surge of emotions, especially fear and anxiety. As a feminist and a survivor of sexual trauma, I felt the unbearable responsibility of bringing a girl into this unsafe world. For a moment, I felt unequipped, and then I realized that I could no longer retreat from my active engagement with issues that are relevant to women and girls, including reproductive freedom, public safety, gender-based violence, and the emotional toll of growing up in a patriarchy. I could no longer just simply read, "like", or "share" other people's essays and info-graphics about gender justice; I would need to get actively involved again. I looked at myself deeply, and made a recommitment to live a life of purpose where I would actively work to make a safer place for my daughter, and the others sons and daughters we are collectively raising. Being part of a feminist activist community like SAWCC (South Asian Women's Creative Collective), I knew my deepest fears and my wildest dreams for a safe world were shared by others.
When I first heard about the attack, it confirmed what I intimately knew: the reality of the lack of safety and freedom of physical mobility for women in South Asia, especially in Delhi. My family members all knew (and had perhaps experienced) horror stories of gender-based violence. And all this under the dumbest, most offensively flippant name: "Eve Teasing". This name masks (and makes the larger culture complicit with) systematic gender-based violence by using a name that sounds more like a prelude to a Shakespearian masquerade scene, and less like the actual reality of seclusion, oppression and fear that women face on a daily basis in places like Delhi. I have heard stories about my aunt who, while riding her scooter to her office, was surrounded my three guys on scooters who tried to run her off the road—she managed to escape. That is called "Eve Teasing." Further, the lack of public safety for women reinforces patriarchal family cultures to even further control, suppress and forbid the mobility of daughters, sisters, wives, mothers and daughter-in-laws by their family. I have personally experienced and witnessed that too. We were never to get on a bus; if we didn't have someone to drive us, we had to stay at home.
Since the world is so virtual, it is no coincidence that SAWCC's FreedomSafetyNow action began from a Facebook post by choreographer Parijat Desai on December 28, 2012 where she asked, "Have there been any NYC solidarity actions with protestors in India?" Responding to that post, SAWCC Founder Jaishri Abichandani suggested staging "a collective action performed as a flash mob with protestors "wearing red and black or some symbolic color." I later suggested doing an action in front of the Indian embassy to place responsibility on the government and, by December 31st, the wheels were in motion. The idea transformed into doing a public action on Republic Day on January 26, 2013 at the Indian consulate, for which Jaishri hosted a meeting that became the first rehearsal, and Parijat brought her choreographic ideas and the short chant "Freedom, Safety, Now!"
I could not attend that meeting, as I had a mandatory Letterpress Printing class at the Center for Book Arts (CBA). At the CBA, I was playing around with metal type, different styles of inking, setting up the Vandercook press. I was having fun, but something hit me—I needed to take my ideas to the next level, my experiments were not feeling meaningful, and I really wished I was at the SAWCC meeting.
Later that night, feeling a bit high from the fumes of the inks and solvents, and excited by the drawers of wood type, I reached out to Jaishri, and asked if I could maybe make a sign for the SAWCC protest. She gave me the direction: "Our chant in the piece says FREEDOM, SAFETY, NOW! Perhaps you could print those words? Will you be able to get red paper to write the letters on?" I loved that the chant was made up of three words followed by an exclamation point, like "War is Over!" As I laid out the type, I realized that the poster would have more graphic impact without the commas. And that the commas, which represent the pauses a speaker takes, would be expressed in the chants of the protestors themselves.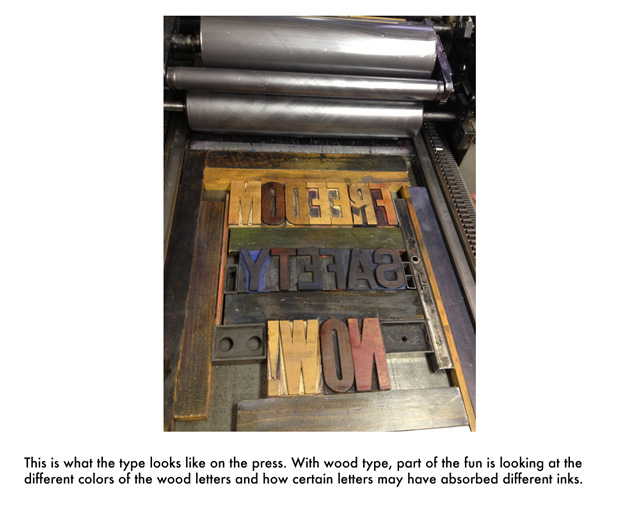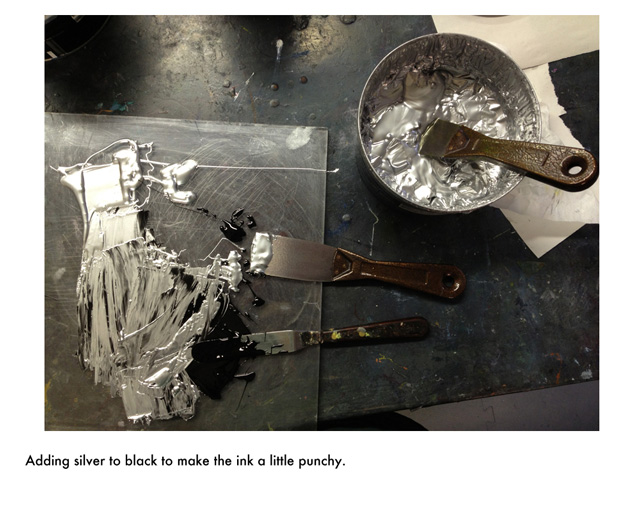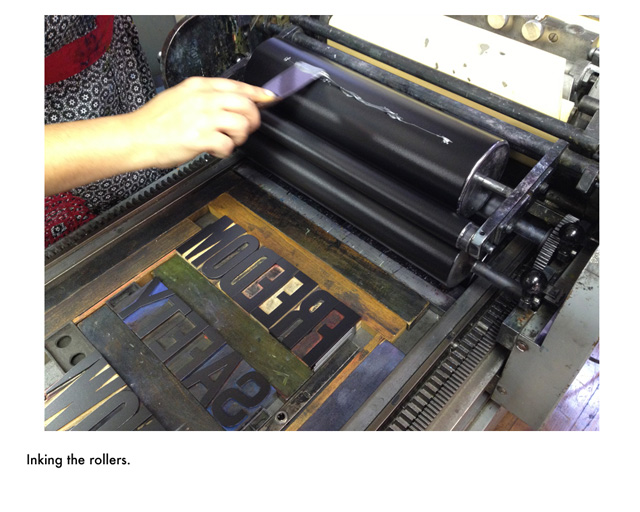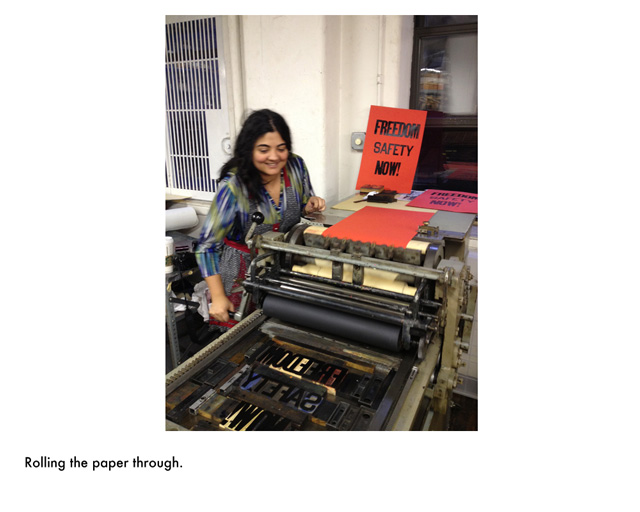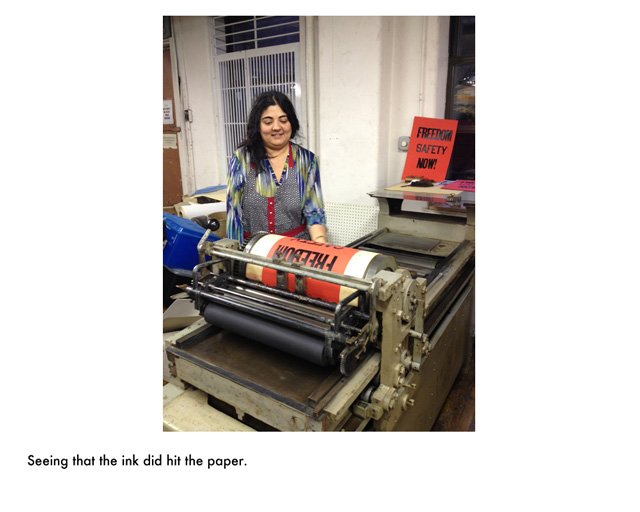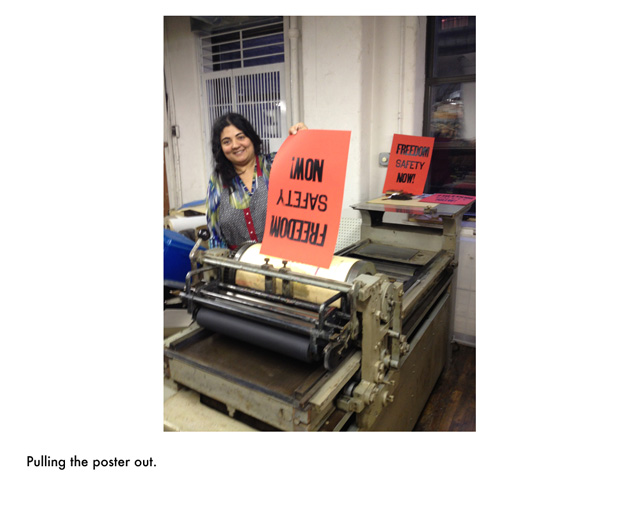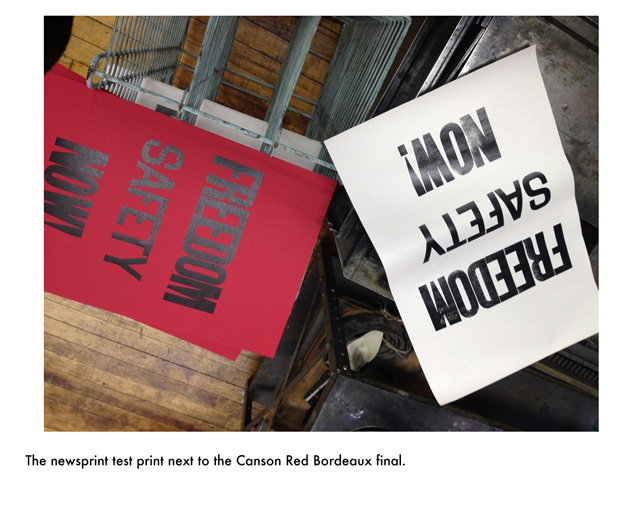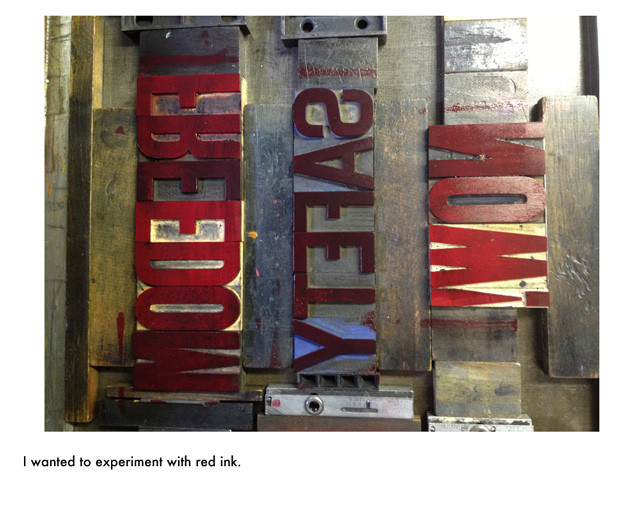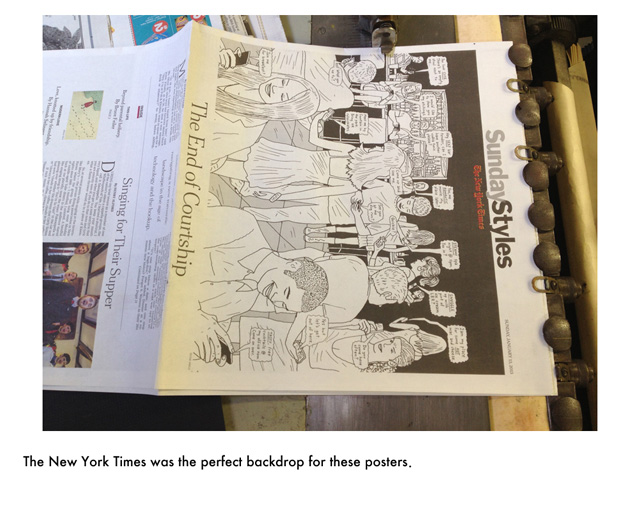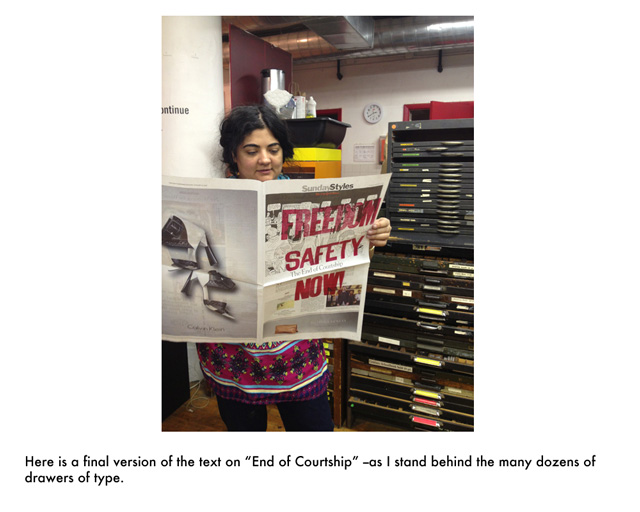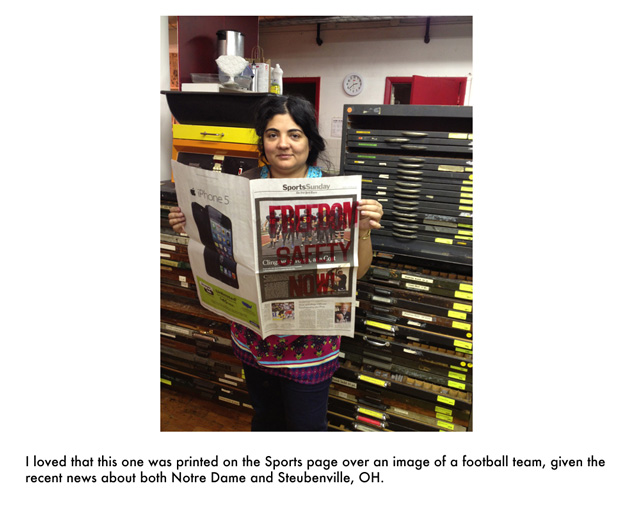 On January 26, 2013, South Asian Women's Creative Collective organized a protest in front of the Indian embassy. In essence, the protest was subtitled by the letterpress posters, punctuated by the percussion and chants, and highlighted by the choreographed movement sequence by Parijat Desai. It was truly a collaboration, deepened by the participation of every individual there. At the end, I found myself (and others) dancing to the dhol and bells. And it occurred to me, thinking back to when I had stood on many a NYC sidewalk in the 1990s holding posters and shouting chants, that it was the full immersion into the creative side (music, dance and visuals) of agitation that breathed life and hope into activism. I had always found protests to be important and empowering, but this one felt healing and regenerative in a different way because of its full-throttle embrace of creative expression to promote social justice.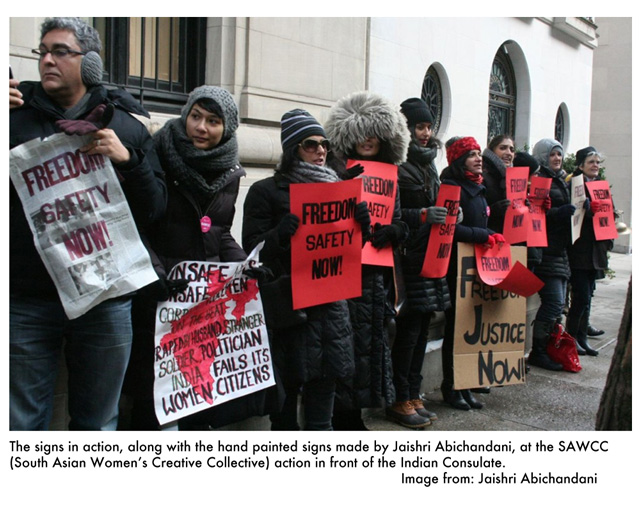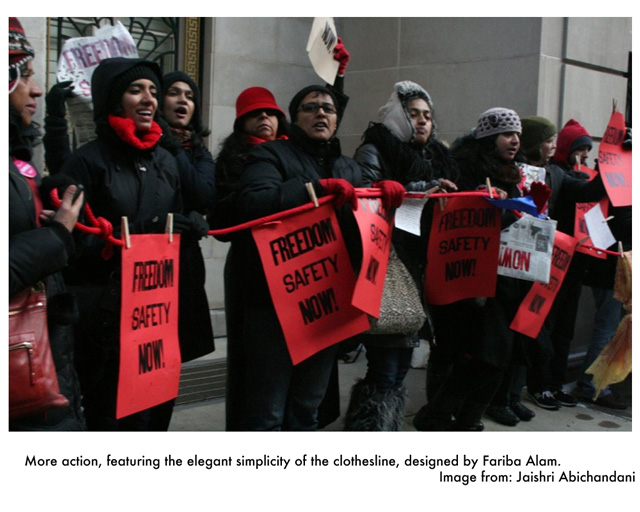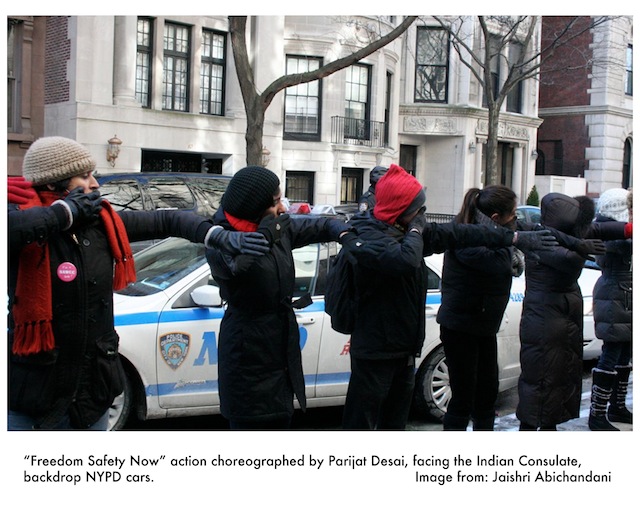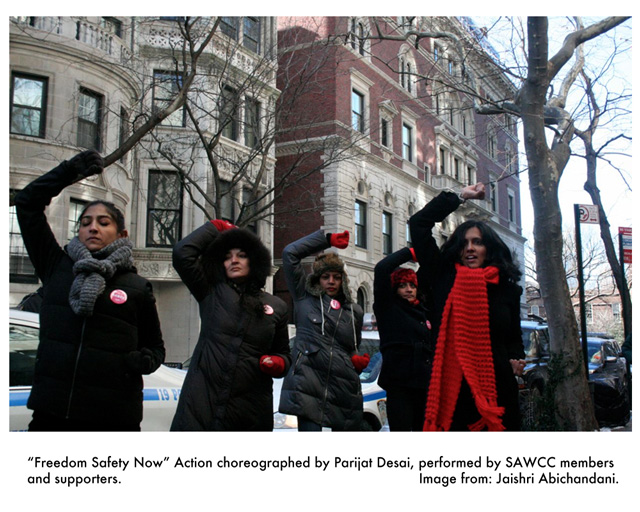 It also is instructive to know the history of agit prop and political actions, to know our rights to protest, especially as it connects to law enforcement. Interestingly, the FBI launched an unsuccessful four-year deportation campaign against Yoko Ono and John Lennon after the anti-Vietnam War "War is Over!" and "Bed-In" for peace campaigns. Artistic expression, especially that connected to activism, is always surveilled. That January day, the NYPD was called very early, just as the SAWCC protest began. And at one point, a black SUV that said "COUNTER-TERRORISM" in an all caps (sans-sarif font) pulled up. The "terrorism" experts saw our signs and heard our chants. Ironic, right?—as the real terrorism for more than half the world is actually gender-based violence. The van left in 15 minutes, with the uniformed officers looking annoyed to be called, and we continued to chant. As gender-based violence continues to threaten both biologically female and transgendered bodies, we remain committed to finding creative and vocal ways to demand freedom and safety for ourselves, our daughters and all our sisters around the globe.