Towards Critical Solidarity
We must provide the basis for a progressive alternative to the interpretation of race relations, moving the political culture of black America from a racialized discourse and analysis to a critique of inequality which has the capacity and potential to speak to the majority of American people. This leap in theory and social analysis must be made, if black America has any hope of transcending its current impasse of powerlessness and systemic inequality. As C.L.R. James astutely observed: 'The race question is subsidiary to the class question in politics, and to think of imperialism in terms of race is disastrous. But to neglect the racial factor as merely incidental is an error only less grave than to make it fundamental.'
Manning Marable, Beyond Boundaries
In this third monthly column by the South Asia Solidarity Initiative (SASI) we begin with these profound words of Manning Marable who passed away in April 2011, in part because of the wonderful coincidence of naming this column, 'Beyond Boundaries,' which is also the title of his selected writings published in 2011. In the introduction to his writings, Marable acknowledges his intellectual debt to C.L.R. James, and borrows the title from the classic on cricket and colonialism, Beyond a Boundary. As South Asians politically engaged in the U.S. we have much to learn from and be inspired by intellectuals like James and Marable. Our solidarity should not be bereft of such political insights, and our politics must confront the blindness of a South Asian authenticity and the racism of a South Asian supremacy that does not engage the politics of black America while living in this country.
In the previous columns written by our fellow activists, two issues of solidarity important to SASI were addressed; our campaign on POSCO, 'Land Grabs and Corporate Steel ' and the pressing problem of Kashmir, 'Of Silences, Suffering and Solidarity: Facing South Asia's "Original Sin."' In this column we raise some questions and tensions in solidarity politics itself.
For us, the concept solidarity is antithetical to any politics of authenticity and complicates identity politics. Indeed, if we are to think of South Asia, as a space or region beyond nation-state boundaries, but one that connects people through shared histories and common struggles, then South Asia solidarity must question reductive notions of authenticity and identity, and address problems of inequality and power. This idea of South Asia would be all the more important for solidarity from the distance of the West and the diaspora. And we must go further – and draw from James and Marable, and their commitment and courage to address the difficult tension between race and class – and open critical questions about our solidarity.
By reflecting on two recent instances of solidarity campaigns, we wish to suggest that notions of critical solidarity have to be addressed in an even more complex manner in an era of global communication. The Free Binayak Sen campaign that had a very strong international component complementing the Indian campaign is an excellent example of the rich potential for global solidarity. Binayak Sen, a physician-for-the-poor, public health professional, civil liberties and development activist based in Chhattisgarh, India was arrested in 2007 under the Unlawful Prevention Activities Act, 1967 (UAPA) and the Chhattisgarh Special Public Security Act, 2005 (CSPSA) on charges of abetting the Maoists. He is currently out on bail after being unjustly convicted of sedition under the Indian Penal Code.
Since Sen believed that health rights had to be situated within a holistic conception of human rights including political and socio-economic rights, it was not surprising that he also became a part of the civil liberties movement. As the national Vice President of People's Union for Civil Liberties, one of the oldest civil liberties organizations in India, Sen was not only a critic of the state's development policies that favored corporate interests over those of indigenous people of Chhattisgarh but was also a critic of the Salwa Judum, state-sponsored militia set up in 2005. Such activism led him to face the wrath of the state.
The response against the unjust arrest of Sen was unprecedented among wide sections in many parts of the world. Just to give a few examples, there were not only simultaneous protests outside of consulates and embassies in many U.S. cities as well as in U.K. and Canada, there was also mobilization by some of these groups to get 22 Nobel Laureates to sign a letter protesting his arrest. Protest statements by groups such as Amnesty International and one by the UN Special Rapporteur on the situation of human rights defenders was also ensured in the case.
This is a significant example of the potential of international solidarity, where groups are able to point to the draconian nature of extraordinary laws introduced by the Indian state against those who dare to dissent and create visibility for activists such as Binayak Sen portraying them as global symbols for all those fighting for equality and justice. However, even the advances of this campaign raise several questions: Is one able to successfully link individual instances of detention to the extraordinary laws such as CSPSA and UAPA? Can the link between militias such as Salwa Judum and the neoliberal politics of mining rich areas be exposed through this campaign? Can one sustain the international support for all the other such dissenting activists who have been jailed in recent times? How does one connect civil liberties to economic and democratic rights in a way that extends the wider appeal created by the Binayak Sen campaign?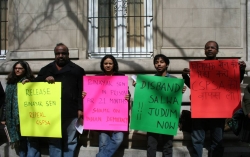 Free Binayak Sen action outside the Indian consulate in March 2009
While progressive groups based in the U.S. feel most comfortable promoting particular issues among the diasporic communities, there is often reluctance about intervening in the internal debates raised by these campaigns themselves. One such example is the hesitation to discuss the troubled history of the Maoists during the campaign against Operation Greenhunt. While there was consensus that this operation – an attempt by the state to use unprecedented military force against the Maoists in the central part of India – had to be condemned and opposed in no uncertain terms, there was also the silencing of ongoing critiques of some long term strategies adopted by the Maoists.
Once again, the politics of location was brought in to remind the constructive critics that this was not the place or time to raise such questions. The moment had to be one of full unconditional support. There appeared to be little space for a position that was critical of the state while asking certain questions of the Maoists themselves. Particularly, questions about the Andhra experience, including their relationship to mass mobilization, to practices of democratization, to the limits of militarization, to unprovoked killings of state officials as well as NGO and other political activists were avoided. While all these are complex questions with no easy answers, the debate on Operation Greenhunt went ahead alongside new narratives as if the Maoists had not in some form or the other existed since the 1960s. And that traditions of feminist, dalit, human rights critiques from within had not equally been a part of their history.
For activists outside South Asia, if they are to mobilize in solidarity, one wonders whether it is possible to have a more critical stance, which is cognizant of these complex histories? While there is no substitute to being on the ground, however, when that alone is seen as the basis of authentic intervention, one wonders whether this emphasis on authenticity forecloses the possibilities of rich debates and informed engagements. In effect, there appears to be a reluctance to deal with the messiness on the ground. Solidarity then takes the form of a default pursuit of the most popular "radical" campaign, not realizing that sometimes these are opportunities lost for strengthening our solidarity. At such moments, is it not our responsibility to question as much as to support, for only that would mean solidarity in struggle, rather than existing completely outside of it.
Critical solidarity then should be willing to engage both the substance and strategies of the relationship of defending one courageous activist to the larger question of neoliberalism, and the challenges of questioning the radical Left even when it is under severe attack by the state. James and Marable further remind us that in our solidarity with struggles in South Asia and our opposition to imperialism, we have to engage class and race, both there and here. Thus going beyond the boundaries of nation-states, and informing our politics by struggles for justice in South Asia as much as by struggles around class and race here in the U.S., would be important for our constructive turn towards critical solidarity.