Swagistani: A Review of Chee Malabar's Burning Tire Artisan
With the underground explosion of Das Racist & the BBC Asian Network-supported BURBAN (Brown Urban) scene in the UK, Chee Malabar attempts to hold down the fort for earnest desi rap stateside with his latest offering Burning Tire Artisan. His dedication to the game is apparent and his commitment to the cause evident, waving both Himalayan Project and Oblique Brown flags since the days when the Karmacy Movement was relevant to somebody; CM shows no signs of slowing down.
Himalayan Project, Chee's original project with partner Rainman, dropped their first album back in 2001 and have been rapping together since 1994. With three albums under their belt, the duo have made a name for themselves on the college and art festival circuit, telling it like it is for two immigrant Asian boys living through hip hop. Oblique Brown is essentially Malabar's solo effort, alongside beat maker Zeeb, who also produced Himalayan Project's second and third albums. Now Chee Malabar records under his namesake.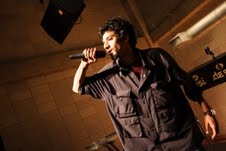 Less hipster and more backpacker, the beats on Burning Tire Artisan keep your head nodding consistently. Certainly not the wickedest MC ever, Malabar ain't afraid of being shown up on his own album. With a handbag full of guest MC's, their flow smoother than his own, he wears his sincere heart on his sleeve. Rhymes full of intention and swaggy bravado and wordy mouthfuls of enunciated twang, prove CM's doing his thing. (Not unlike an annoying as fk Eminem, but hey, that didn't stop Marshall Mathers from runnin' tings.) The best moments on the album are when Chee and guest rapper Mo flow together effortlessly alongside Ali Abidi's ill-ass beats. The genuine real deal is in full effect when they spit fire back n forth. On "Sedgwick Ave.," CM & Mo tell us like it is. Middle fingers up, they gonna bear it all.
In his effort to write a desi immigrant New York State of Mind (New Yorkstani) the album's sweeping, monumental, stand-out, is actually my least favorite track. The chorus does it's job, lodges itself into my brain, playing endlessly on repeat/stuck on loop, but Lady Gaga can do that any day - annoying gimmick or pop genius? Probably both.
If nothing else it's an homage to God's Son. Oh wait, that's "Cassette Era Rhymer." (Bow down to Nas.) "Knock Knock," who there? It's your boy, Chee Malabar. If you wanna have a little personal dance party right now I suggest banging track eight LOUD. Watch out, you might even find your head nodding turn into full attami. I don't know if "Chee Malabar the greatest" but he and Mo need to get married already. They the people's poets. Occupy Outrageous. I wanna see some Desi B-boys get down to this, polished & ragged, di. Don't get me wrong, the album grows on ya. Maybe he should have named it The Importance of Being Earnest. Or better yet, Swagistani. Just sayin', it gets better with each and every listen.
Video of "Unbearable Sweetness" directed by Tanuj Chopra: