There is no Kashmir, but Kashmir
There is nothing chaotic about a well-executed and long-standing military state, nor is their anything normal about men in uniforms with long archaic rifles at every street corner. Srinagar it is a city under occupation.
After the October 8th South Asian earthquake that hit Kashmir and the North West Frontier Province, there has been much public scrutiny of boundaries and borders in attempts to understand the impact of the devastation. Not much attention, however, has been paid to the pre-existing conditions in the region that will make this reconstruction effort tremendously difficult and complicated, nor has there been much attention to the cultures and histories that frame the lived experience of survivors in the aftermath. Unfortunately, the South Asian earthquake is seen as ahistorical, its relief efforts unconnected to the brutal battle over the very line of control shaken with a 7.6 magnitude, and its people dislocated from the desire for justice, peace, and sovereignty. With surgical accuracy, the media has reported exactly how many people have died in India and Pakistan, in Pakistan-Administered Kashmir, Indian-Administered Kashmir, and NWFP, re-articulating painful and unnatural boundaries. The photographs presented here are solely from the Indian side of Kashmir, and unfortunately could not reflect the most devastated area which is located on the Pakistan side of the Line of Control. In a region so defined by unnatural political boundaries, the earthquake's destruction did not discriminate along these militarily enforced national borders. Yet, it seems a moment has been lost to consider the abandonment of this unnecessary wall, as within the first month of reconstruction, relief efforts have been clearly defined by state lines. Many continue oppose this—maintaining that despite the Line of Control, there is no Kashmir, but Kashmir.
For most people in the world Kashmir exists only in the realm of the imagination, bound by headlines, the empty spaces between newspaper article lines in left to be filled by the mind. Before the earthquake, one could hardly utter the word Kashmir without invoking a romantic landscape of army convoys and fidayeen attacks against the backdrop of the Himalayas. Indeed, Vinod Chopra's 1999 Bollywood smash-hit Mission Kashmir was only the natural culmination of years of mainstream reporting and government propaganda. A generation of South Asians know Hritik Roshan's rainbow-framed dance in "Rind Posh Maal" as their only reference point for Kashmiri culture—in a snapshot, the pixilated tragedy of disinformation. Yet even for more well-informed and avid readers, there are few alternate sources of information. For example, Salman Rushdie's new novel Shalimar the Clown, despite its intricacy and richness, varies little from standard narratives of the Kashmir conflict, silencing discussions on the complexity of dissent. There is very little room for the possibilities of histories spoken, yet left to be heard.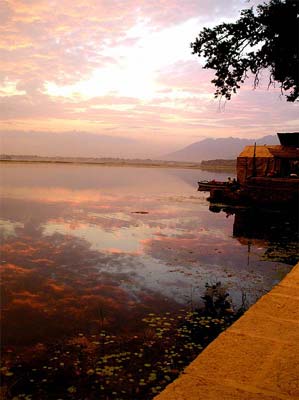 The Dal Lake at Sunset
The photos in this essay reflect my stay in Srinagar, Kashmir in June and July of 2005, and a good fifteen years have passed since the beginning of the current uprising. Mainstream news reports out of Kashmir either portray the relative normalcy allegedly being established that the government would like to reinforce, or they show a discombobulated and frenzied Srinagar, a city still under siege. What I found was neither chaotic nor shrouded in normalcy—there is nothing chaotic about a well-executed and long-standing military state, nor is there anything normal about men in uniforms with long archaic rifles standing at every street corner. Srinagar is no doubt a city under occupation.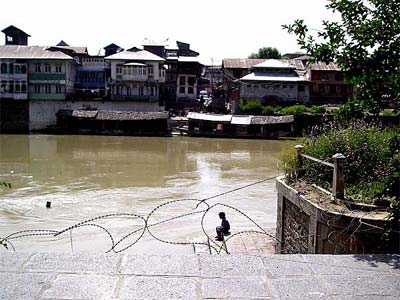 A View from the Jhelum
From every street corner scabs still bleed from years of political conflict—the Dal Lake and the Jhelum River are polluted. Barbed wire litters the landscape needlessly, at times adorned with used glass bottles dangling in suspense of who might rattle them, signaling that perhaps someone is attempting to transgress a boundary. It is very difficult to travel in Srinagar without facing obvious signs of conflict visible at every corner: schools that have been converted into army bunkers, crumbling and charred walls framing empty space—the skeleton of what was once a cinema, a pair of eyes and a rifle peering out between sandbags and chicken wire.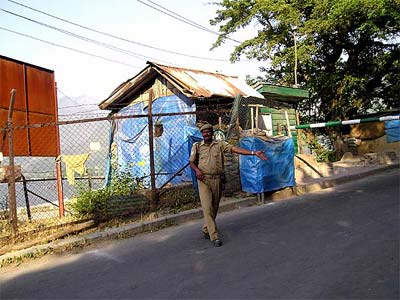 Soldier Directing Cars for Search on Route to Shankracharya Temple
State enforcement agencies litter the street, on curbs everywhere you find poor (often Bihari/Manipuri/Tamil) soldiers brandishing rifles, and suited up in the army uniform of a government which seems to value nuclear weaponry and economic growth more than the needs of the impoverished majority of the country. The relative poverty of the Jawans is used at the service of the wealthy elite's military needs. Here, as in Palestine, we wonder how people who faced such brutality before 1947 could enact similarly repressive relationships in the period since? Locally, these antagonistic relationships between state enforcement officers and indigenous residents only fertilize the roots of conflict.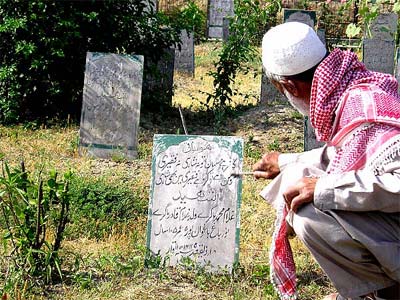 Cleaning a Tombstone in the Martyr's Graveyard
While the ups and downs of the political process persist, Kashmiri people continue to die. Graveyards for the martyrs—those killed in the struggle, both those fighting as well as those caught by stray bullets or army aggression—continue to be filled. Mothers come to mourn and manage the gravesites, and rules about women in graveyards are bent to accommodate the number of female family members who cannot be turned away from tending to the graves of their loved ones. Some caretakers are community members who have overseen hundreds of male and female bodies of all ages brought to them. While overseeing the site and cleaning off some of the tombstones, this man showed me which graves were visited often, which rarely saw visitors, and which still remained unidentified—recalling to me how the corpses came to the sites, who they were, and how their lives were taken from them. He has overseen nearly every body in this graveyard.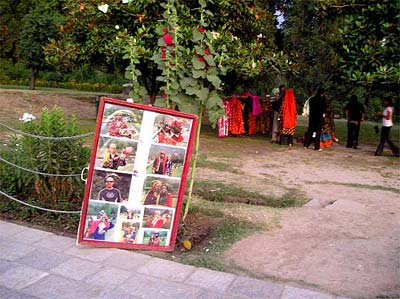 Indian tourists dress-up like Kashmiris in the Moghul Gardens
Indian tourists who come to see the famed beauty of Kashmir are whisked around on a tour of the most famous sites, indulging in the beauty of Cheshme Shahi and the Nishat Bagh, striking landscaped relics of the Moghul era. The Moghuls, too, indulged their enjoyment of Kashmir's beauty. They landscaped to create spaces for their own recreation, rendering Kashmiri people's needs secondary to their own desire. Many Kashmiris cite the beginning of Moghul rule as the end of their sovereignty. The foreign craving to consume Kashmir persists among South Asians and non-South Asians alike. Today, some tourists even pay to dress in traditional Kashmiri clothing and take pictures at these sites; performing a reality in Kashmir that can hardly exist outside of the imagination, and little reflects the lives of masses of Kashmiri people who these vacationers may go their entire holiday without ever having spoken with. Shallow tourist rituals that may be invasive anywhere else in the world are remarkably sardonic in the valley, where self-determination and voice are suffocated by a poorly written Cliffs Note on Kashmiri culture.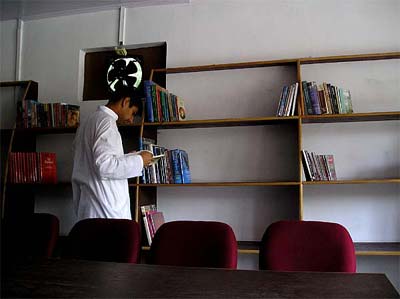 A Privately-Owned Library in Srinagar
There are few educational and recreational resources for young people. Libraries that may have already been in need of resources are now hopelessly substandard. Even privately funded libraries like this one are full of empty spaces where there should be books for the young to quench their thirst for knowledge of life outside of Srinagar. Vital community resource centers, such as this one, lack the funding and adequate attention to functionally sustain themselves. The combination of dilapidated infrastructure with the lack of opportunity for self-betterment is bitterly acute in the present realities of youth.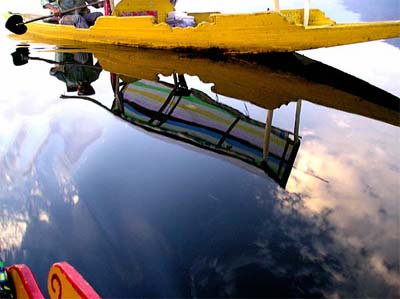 This vendor's logo-free Shikara is becoming a relic.
Even houseboats and beloved Shikaras face their own plight. Many now suffocate under the new AirTel and Pepsi signs accessorizing globalization Their advertisement-adorned roofs scream of the endless expansion of global capitalism and remind us of the tired yet seemingly omnipresent neo-liberal agenda that has swept through India with great speed—faster, even, than the cell phone phenomenon. The ubiquity of Indian corporate advertisements in Srinagar reflects the tourist traffic returning to the valley, poised to consume an essentialized Kashmir. Nowhere is a better place for declaring the intent of global capitalism in Kashmir than bobbing up and down on the Dal lake, reflecting the inverted corporate insignias back to the sky.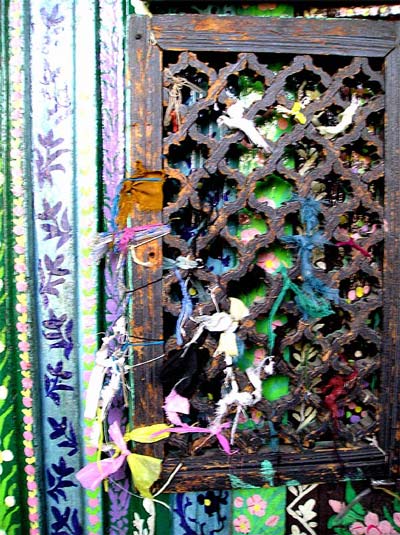 Tie a Knot at Shah Hamdan
The late Agha Shahid Ali once wrote in his collection of poetry The Country Without a Post Office of making a wish at Shah Hamdan, and sealing it with a knot as people do everyday. At Shah Hamdan, one of the oldest religious sites in the city, many come to make wishes and vow to untie the thread upon their hope's fruition. Behind Shah Hamdan runs the river Jhelum, and the site stands as testimony to the long Sufi history in Kashmir. Sayyid Ali Hamdani was a Sufi saint who most credit for bringing Islam into the valley of Kashmir. The architecture and painting of the site is exquisite, and only further frames the persistence, above all, of hopes. Small, colorful knots tied around the intricate latticework—dreams waiting to be fulfilled.